Programmeertalen analyticals
.
Welke programmeertalen hebben analyticals tot op zekere hoogte onder de knie voor data-analyse, modelleren, machine learning etc.
Welke programmeertalen beheersen
analyticals

zoal!
De top-11 van programmeertalen die analyticals in meer of mindere mate beheersen voor ze gaan werken, ziet er als volgt uit.
Ruim 82% van de analyticals beheerst Python. Dit wordt gevolgd door R (meer dan 50%) en SQL (bijna 35%). De gehele top-11 bestaat uit Matlab, HTML, Java, LaTeX, JavaScript, Tableau, Pandas en C++.
Begint een werkstudent eenmaal met werken, dan pakt hij/zij snel de benodigde taal op, althans zo is de ervaring tot op heden.
Een mooi overzicht van programming, scripting en markup languages op basis van een onderzoek door Stack Overflow, tref je op volgende url: https://insights.stackoverflow.com/survey/2021#technology-most-popular-technologies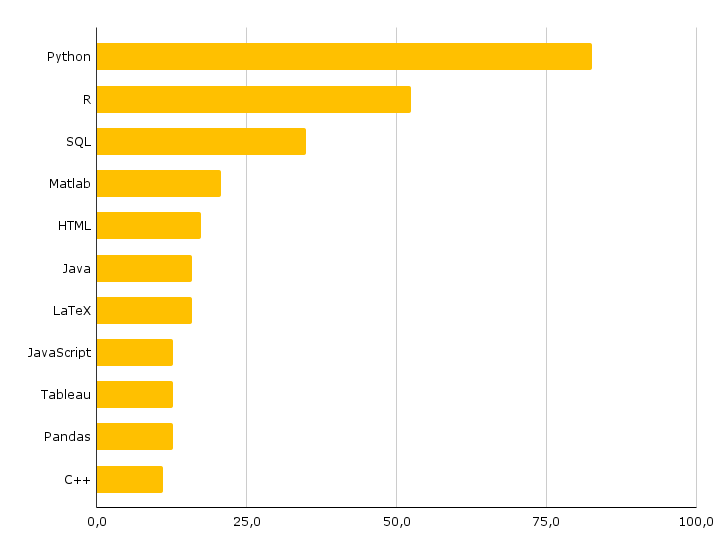 De complete lijst van 'talen' van analyticals voor ze aan de slag gaan, ziet er als volgt uit:
AIMMS / Apache Hadoop / AWS / Azure / BeautifulSoup / C / C# / C++ / Deep Learning / Delphi / Django / Docker / Eviews / Flask / GCP / HTML/ Java / JavaScript / Keras / Kubernetes / LaTeX / Linux / Machine Learning / Matlab / Matplotlib / MySQL / Natural Language Processing / NLTK / Node.js / NumPy / Pandas / PHP / Power BI / Python / PyTorch / R / React / Reinforcement Learning / SAP analytics / Scala / Scikit-learn / Scipy / Spark / SQL / Stata / Tableau / Tensorflow / VBA / x86-64 Assembly
Send us a message and maybe our smart students can help you out.
Are you a student and looking for a challenging side job as analytical?